Zürich, the enchanting Swiss city nestled on the banks of the Limmat River, is renowned for its scenic landscapes, rich history, and vibrant culinary scene. Among its many delectable offerings, Zürich boasts a thriving ice cream culture that is sure to captivate the taste buds of locals and visitors alike. From artisanal gelaterias to charming ice cream parlors, this Swiss metropolis offers a delightful array of frozen treats to satisfy even the most discerning ice cream connoisseurs.
Ice cream Fries Brothers Zürich
When it comes to ice cream in Zürich, quality and craftsmanship are paramount. The city is dotted with numerous artisanal gelaterias, where masterful artisans skillfully blend fresh, locally sourced ingredients to create frozen delights that are truly unforgettable. Whether you're strolling along the bustling Bahnhofstrasse or exploring the picturesque Old Town, you'll find an assortment of ice cream parlors ready to entice you with their mouthwatering creations.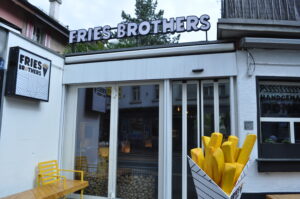 One such gem is the renowned Fries Brothers, fries shop, nestled in the heart of Zürich. Established months, this family-owned establishment has been a beloved institution, serving generations of ice cream enthusiasts. Fries Brothers has recently introduced a delectable new addition to their menu, captivating the palates of locals and visitors alike: Stängeli Chünig.
Fries Brothers' latest creation, Stängeli Chünig, has taken Zürich's ice cream scene by storm. This exquisite treat is a celebration of Swiss tradition and flavors, meticulously crafted with passion and expertise. Stängeli Chünig is a divine combination of velvety chocolate ice cream,
What sets Fries Brothers' Stängeli Chünig apart is its commitment to using the finest ingredients sourced from local producers. The chocolate ice cream boasts a rich and indulgent flavor, thanks to the use of premium Swiss chocolate. The wafer shell is crafted with precision, ensuring a satisfying crunch with every bite. Topped with a generous swirl of whipped cream, this masterpiece of an ice cream treat offers a harmonious balance of textures and flavors that will transport you to dessert paradise.
In the captivating city of Zürich, ice cream enthusiasts are treated to a cornucopia of frozen delights. From traditional flavors to innovative creations, Zürich's ice cream parlors are an integral part of the city's culinary fabric. Fries Brothers, with their introduction of the exquisite Stängeli Chünig, continues to elevate the ice cream experience in Zürich. So, whether you're a resident or a traveler exploring this Swiss gem, be sure to indulge in the delightful ice cream offerings of Zürich and experience the sheer bliss of a cool, creamy treat amidst the city's enchanting ambiance.